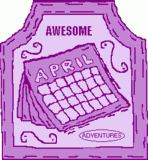 Day 11
Firstly I forgot to let you all know what my lie was in the layout from the other day.
The lie is that i grew up in Brisbane. I was born in Hobart and lived there until 2000.
Also I omitted to say that DH did get his leather offcuts yesterday.
Finally got rid of one of the car wrecks out of the yard today, was picked up this morning.. one down 2 to go..
I was looking forward to a quiet night at home with just Josh, me and John, with Dan and Jay both on sleepovers. That all ended at football training when Josh asked if Rhys could come stay. All 3 of them have been sitting playin Risk, its been quite comical listening to them.
Monday John and Josh went fishing these are a few pics John took
It may not of been huge but he was proud just the same.
Just love this picture of Josh. Its rare he lets you take a photo these days, so to get one like this is awesome.
Want to wish my friend Lynnie all the best for her procedure tomorrow. Got my fingers crossed for you chickie!!
Cheers