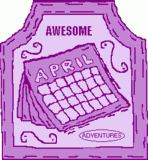 Day 10
A while back
Ngaire
mention on her blog how she had been to
Reverse Garbage
. I love that place, its so full of inspiration. Well I have been thinking about going up there everysince and today when John said he needed some leather ofcuts...
We went and much to the boys disgust spent ages checking everything out..
Aren't these just so pretty, will have to do something with them for my nieces!
This is one lot of material i got, was in mystery bags for $2!!
A close up of the faces printed on the material, how awesome is this!! there were 3 lots of them.
Another lot of material i picked out of a huge bin.
Close up detail
Finally some fob tags and a little album, they had material of cuts on them. As soon as I saw the fob tag thingys, I thought mini tag albums half the work is done for me! The larger one will make a great mini album as well.
I could of spent alot longer there than we did, but am so happy with my little stash of goodies and so is my purse :)
Thanks
Ngaire
for putting this place in my thoughts :)
Cheers