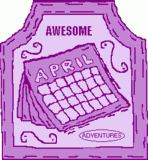 Day 9
John and Josh went of fishing today, trying out the new rod and reel Josh got for his birthday. The other two boys played with mates quite happily. That left me alone to scrap.
I got this one done for a challenge at
Memories and More
. The challenge to use an arrow bigger than 5cm. Really like this curvy arrow.
This week the prompt for
Emilys Deck of Me
was Birds. Took me awhile to decide what I was going to do, finally decided on the kookaburra photos that DH took last year just near our home. Did a little research on them and found this little info. How totally relevant to not just our creativity but to our everyday life.
Cheers