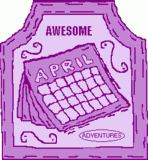 Day 8
Had a really lazy day at home, Easter bunny came and the boys ended up with a good pile of eggs. They surprised me and didnt eat all that much of it today. Too much party food the last two days i think.
Got some scrapping done, this one for a challenge at
Memories and more
.
This one for the
Flex your mind challenge
. The promt was '4 truths and a lie'. We had to do a layout about ourselves that included 4 things that were true and one that wasnt. See if you can guess which one isnt. I will let you know the answer in tomorrows post.
Another painting, tried a landscape, it needs work but im happy with it. Really loving the freedom the painting gives me to just put something on paper and not worry if its perfect or not.
Got given a huge roll of material today. Thanks Kylie your a doll :)
Going to try and make curtains...
Wish me luck I will need it lol
Cheers