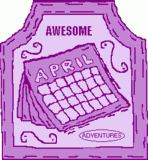 Day 7
I should of done this last night but we were tied up with a birthday celebrations and then just too tired.
My boy turned 14 yesterday!!
He is growing up so quick its almost scary. This is his birthday dinner celebration complete with Freddo Frog Ice cream cake... His choice of birthday cake lol
Blowing out the candles...
Cutting the cake, making sure not to hit the bottom..
Seeing as Good Friday everything is closed, he had his party today. A pool party. hey had heaps of fun even if it wasnt the warmest weather.
Water rugby seemed (and sounded) way more fun than the real game lol
Josh and some of his friends enjoying themselves.
Tomorrow I plan to sit and scrap or at least try and do something creative. Its been a hectic few days for us and we are in need of a nice quiet one.
Easter bunny is of course comming later and sure to bring lots and lots of chocolate and eggs.
Hope everyone has a great day tomorrow whatever your plans are.
Cheers