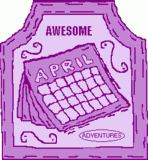 Day 13
Ooops I missed posting yesterday. I could come up with all these excuses... but to be honest I just plain forgot.
Todays marks the end of John's holidays, he is back to work on Monday and only 4 more days till the kids are back at school and routine starts again. It has been nice not having to be up early and organised for awhile.
Been sorting layouts and photos for the last couple of days have done a few 12x12 layouts *shocked look* yup just for a change :D and have a few more in the pipeline.
This layout is for a challenge at
Memories and More
. Challenge was to use 8 different rectangle PP scraps in a line.
We have been chatting with the boys a bit about where there grandparents were born and about their heritage, so I had the urge to paint the flags from both countries.
Australian flag.
Dutch flag.
Jay had his presentation for Auskick tonight, he got a certificate and a medalion. I took photos but had to use my old film camera so I cant share yet.
He has joined the under 10 team at the Cobras and will start fixtures in 2 weeks, got his uniform tonight and he was so cute 'now I will look like Josh mummy' (Josh plays for the same club).
If any one who reads my blog is interested in gluten free recipes, my friend Kitty has just started a blog with lots of them. Lots of interesting, yummy sounding recipes.
http://glutenfreeinmontana.blogspot.com/index.html
Cheers