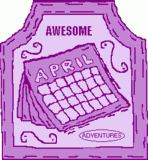 Day 3
As some of you may know a new blog started this month.
Scrapjacked
will be showcasing a different artist for you to scraplift every month. This month it is the very Talented
Erica Glover
.
This is my attempt at her
layout on the scrapjacked site
.
Did another painting, this time a simple rainbow.
This is Jay's snake he made at school today that he wanted me to share with you all.
Busy day tomorrow with Jay being admitted to hospital as well as a soccer gala day at school for Dan he wants me to be at.
Cheers