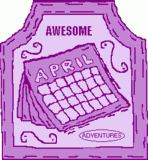 Day 2
This week
Emilys Deck of me
prompt is 'whats on your mind' This week is full on for us with the boys soccer and football training, Wednesday Jayden goes into hospital overnight for his annual fasting tests, Thursday night Jay is playing football at half time of the Brisbane Lions game, John is one of the trainers for St Kilda at the same game, Friday is Josh's birthday, Saturday he is having 15 kids at a pool party and then Sunday is Easter. Im so worried that I am going to forget something or not get everything organised and done in time.
Last nights Cybercrop at
Memories and More
was great, lots of fun chatting and some inspirational challenges. Big thanks to the DT girls for organising it :)
A few of the layouts i completed last night and finished of today.
Cheers