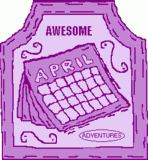 Day 1
WOW April already, before we know it the year will be over :(
CYBERCROP
Tonight and
Memories and More
, lots of fun, chat and challenges, feel free to join us!
Found this today a lady from Scrapitude made it. Isnt it just so cool!!
This is a layout that Jayden did today with leftover photos from one of my layouts!
Lots of doodling and lots of fun doing this layout, for the DT challenge at
KSK
.
My card for a recipe swap im in. Getting lots of yummy recipes from all the girls :)
Off to chat and scrap now
Cheers