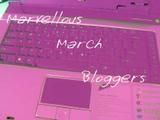 Day 31
Last day of March, where did it go to, seems like yesterday it was only February.
Today we got to sleep in a little before heading of to a practice football match. Josh's team and the youth girls all mixed together and played the curtain raiser for the senior game. Was the best game ive seen in ages. They all had so much fun!
I scrapped! Just for me, not for a challenge, just for the sake of scrapping!!
Liking these Urban Lilly boy range papers.
Todays painting..portrait of me..
Wanted to do a portrait painting now while im just learning so that later (weeks, months, years) down the track I can compare them. My eyes really need work lol
This amazing drawing is one my hubby did in 10 minutes tonight!!
Oh to have his talent!
Cheers