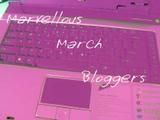 Day 30
This week
Patty's
challenge was to tell the story with unrelated photos. Used odd leftover photos of my niece Jess. The story is about how every time Jess comes to visit, John takes at least 40 photos of her, reckons its because she doesnt protest, we reckon its because he thinks she is pretty special!
I painted! My first ever, its certainly no museum piece and although some may think it looks like a child did it, Im really happy with it!
I did the hand yesterday and today I did the flower. I may not paint one everyday, just when the mood strikes me. I dont want it to turn into a chore I have to get done everyday. The biggest pleasure was when Dan told me how good it was!!
Josh came home from camp this afternoon, smelly and tired but he had a fantastic time. He didnt shutup for at least an hour lol
Got a football game tomorrow, so best get some sleep.
Cheers