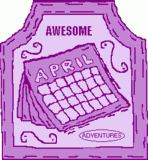 Day 19
Really nothing to post about tonight. Thursday is my errand day, bills to pay groceries to buy etc. Really boring.
We started back at indoor soccer tonight, had a 2 all draw, not bad after a 6 week break.
I got happy mail today, a package of awesome bits and pieces! Thanks Kayla :)
Will be back tomorrow with a more excting post I hope.
Cheers