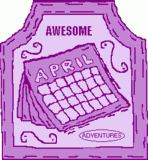 Day 18
Productive day, got 3 layouts done that I am really happy with, not sure if im allowed to show them yet so I best not.
Had to drive out to the bus depot and pick up Josh's wallet that he left on the bus yesterday. I tell ya that kid would lose his head if it wasnt stuck on lol
Out near the bus depot is this great material place that has the biggest range of ribbons and braids and heaps of other things. So of course I just had to stop and have a look :D
I was good though only picked up a couple of things.
Have to say a big
CONGRATULATIONS
to Tam, Scott, Zac and Kenz on the arrival of baby Harrison. Love nad hugs to you all :) cant wait to see pics of your little boy!
Cheers