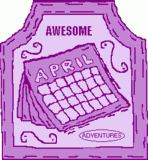 Day 17
This week the prompt for
Emilys
Card challenge is 'your parents'.
I chose not to do my parents or even John's parents, but just John's mum. Over the years her and I havent always seen eye to eye, but as MIL's go she has been amazing!
After news last night this card just seemed fitting...
Just a little plug for a great site,
Memories and More
. Offering great challenges, an awesome gallery, some great girls and they even have a kids section with a challenge for them every month. Go check it out!
Cheers