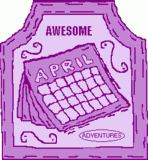 Day 20
Played around with a few things today, made these ribbon flowers. They are so easy to do and you can make them in any colour or pattern that ribbon comes in. I used buttons on the large and medium ones and a star brad on the smaller one.
Felt in the painting mood thsi afternoon and this is what I ended up with.
You may remember me mentioning ahwile ago about my hubby doing a sports medicine course. Well HE PASSED!!!
Congrats babe, I knew you would :)
Off to watch Jay play his first game of football tonight (hopefully the rain will wait till after the game).
Cheers