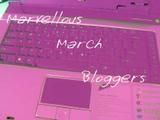 Day 11
OK so spring started 11 days ago right, that means the days cool down a bit...wrong!
It has been hotter this first week of spring than it was the last 2 weeks of summer..go figure...
Spent the morning watching Josh play football, it was so darn hot where we were sitting in the shade the boys must of been melting.
To hot ( am I over using this word lol) to scrap, watched a movie and this show called Dog Whisperer. Took the boys up to the park in the late afternoon to kick the football around, lots of fun, came to the realisation that Josh is indeed alot stronger and quicker than his mum lol.
Sat and worked on some things for the school display board im doing tomorrow while watching Fast and Furious with the boys.
Monday tomorrow, my favourite day of the week!!
Cheers