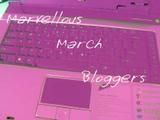 Day 12
I spent nearly an hour and a half at school on friday afternoon putting together a display for the foyer. Principal was well pleased with it, he asked me to come back this morning to do another one about the school leaders. I did some prelim work over the weekend for it...
So I get up to school this morning, walk into the foyer and......ITS ALL GONE!
Everything I had done Friday had been removed. I was livid, the receptionist looked at me and said it was like it when i came in. So after speaking to the principal(he too was shocked), it seems there has been some communication break down.
Now the teacher who replaced it with her classes work (happens to be my sons class) is one of my fav teachers in the whole school. She was blurting out sorrys all over the place, hell she almost got on her knees to beg fogiveness lol
So I got over it, did a display in the principals office instead.
Moving on to the good stuff...
This of Jess and Dan playing for the monthly sketch at
KSK
.
This is week #10 of
Emilys card challenge
.
our prompt is:
'note to self'
- write a little note to yourself, whatever that may be
I have lapses where I forget to believe in myself, so this was my not to me.
Another of Jess for
Patty's Flex your mind challenge
.
Create a layout (or whatever) using something old, something new, something sparkly, something blue.


Something old is the pink braid down the right side something new is the PP.



Made a great start to the week creating wise, hoping to keep it up.
Cheers