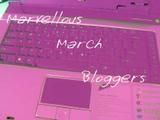 Day 10
My day was totally lazy, the boys all amused themselves with various activities (its kinda ssad that the older they get the less they need mum to amuse them).
Had coffee with my Girl Lynnie this morning, watched a movie and read. Cheated and got take away for dinner then watched a movie with the boys. I now feel some ideas forming so as soon as I type this post out im going to create...
Couple of layouts I've done over the last cple of days.
This one is for a challenge at
KSK
, to design your own pattern paper. I used bubble wrap for the first time, interesting results.
This one for a pattern paper challenge at
Memories and More
, to use PP on half of a circle.
These are what my experimenting with paint turned out last night (i did 5 in total, but didnt like the other 2).
This one I used the lid of something i found rumaging around in my junk drawer.
This is my favourite, covered the cardstock with blue using a sponge then using a fork splattered red and yellow over the top.
Not sure about this one, havent decided if i like it or not, help me decide girls.
Once again used the sponge to cover with blue, then used the end of a matchbox to make the shapes.
Really liking the paint aspect at the moment, must get me some more colours to play with.
Of now to create more.
Cheers