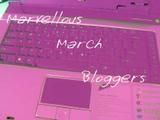 Day 4
Forgot to post again yesterday, blame my new found social life lol, we had friends come over for dinner that stayed late and we ended up watching dvd's until after midnight, by then bed not blog was all i was thinking about.
Been creative again, the tin I made last year, was one of the first things I made for my LSS design team.
Only just this week decided on what I wanted to put in it. Went with a tag (used large office style) album of the boys achievements in 2006.
The pages didnt photograph too well,(must get dh to show me how to use his camera).
I really really hate my handwriting too, but wanted to use it not typewritten for this album.
It is really basic, just a little memento of last year, the boys are growing so quickly and achieveing so much I wanted to document it.
Spent the majority of today sitting watching football (Aussie rules), Josh had his first practice match. Was really hot, way too hot to be playing in.
All we did for the rest of the day was sit under fans and try to keep cool.
Josh cooked dinner tonight (love that boy) and the other two cleaned up, so mum had the night of - well sort of - I still had to fold clothes, iron, make lunches etc lol
Spoke to Sally (Tos) on the phone tonight, she is on the Gold Coast for a conference and I will be meeting up with her on Wednesday!! Cant wait, a bit excited!
Its now late, still hot, and bed time..
Cheers