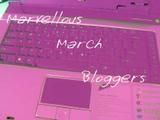 Day 5
I decided today that I was going to sit in my scrap room and create all day. I had ideas for some challenges that Im doing and they all came together really well. Im happy with how they all came out.
This one is for the
Flex your mind challenge on Patty's blog
. She asked us to pick a letter of the alphabet and scrap it, I chose 'G'.
This layout of my niece was done for the
Use your stash challenge
at
KSK
.
Allison
is helping us use up all out scraps and prduct we already have so we can buy more :)
The next 3 layouts are all from challenges at
Memories and More
. Enjoyed doing these ones, stretched the imagination a little, which is great!
So didnt get much else done today lol but I was productive, and thats great!
Of to do mummy things now then play netball.
Have a great night!
Cheers