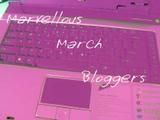 Day 2
Ok so its Autumn (Fall) summer is over..so today was one of the hottest it has been in awhile.. go figure.. Really humid and sticky, the kind of weather that makes you want to just do nothing...
So thats what I did...
I have a desk full of projects waiting to be done, lots of ideas running around, but sweat and photos isnt a good thing.
Tonight was Jay's 2nd night at Auskick they also received a backpack full of goodies! He is loving it heaps, and it looks like we will be putting him in a club team once the 8 weeks is over.
It seems that I now have a new job....at the footy club, im now a helper in the canteen. Got roped in (I really dont mind) for trainings and game days when I am at the ground.
I saw a quote tonight that ive kept and will be using in a mini tag album about my boys.
"You are braver than you believe,
Stronger than you seem,
and smarter than you think..."
~ Christopher Robin
Cant remember where I found it, was on one of the many blogs I read...
Thats about it for tonight.
Cheers