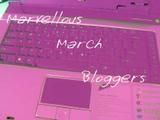 Day 25
What a day, 6 hours tending bar at the football club, as well as trying to make sure 3 boys were fed and keeping out of mischief. I never thought that a sports club bar would be this busy!
Want to wish my hubby a big goodluck and fingers crossed, he spent all weekend doing a sports trainers course, did the exam late this afternoon and will find out in 2 weeks how he went.
Before I head of for an early night for a change... Just wanted to say to the annoymous person who left the comment about my age and smoking on last nights thread - shame on you for not having the guts to admit who you are.
Cheers