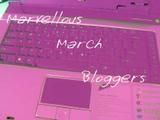 Day 7
I dont know what is keeping my mojo flowing lately but im loving it. Another 3 layouts done last night and today.
This first one is for a challenge at
Memories and More
.
This one for Use your stash challenge at
KSK
.
This one for the March monthly challenge at
KSK
I also managed to get the last pages of a mini album for dh done, its 4x4 and has things you might not know about him. Im not posting it, because, well im lazy lol it doesnt come apart and its bulky and well..see above, im lazy lol
Hoping the mojo keeps flowing and i can get lots more pages happening.
Looking forward to
Patty's
next prompt for Flex your mind challenge comming out tomorrow.
Cheers