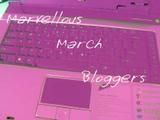 Day 16
My baby boy is going to be playing footy (aussie rules) at half time of a brisbane lions game at the GABBA!!!
He was one of the 18 selected. He is so excited ( just quietly i think mum is more so lol).
Thanks girls for all those good vibes you sent, it worked!!
No layouts to share tonight, been at a cyber crop at
KSK,
not much scrapping but lots of chatting lol. Did get my mini labum finished, will take pics and upload tomorrow. Working on another layout for one of the challenges now.
Cheers