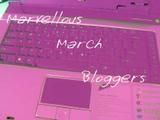 Day 15
Im back with a new mouse, dh was able to find one that would fit. So pleased he didnt have to rebuild. He made me promise not to wear this one out lol
This layout is for a inspiration challenge at
Memories and More
.
My baby boy having fun at the park.
I finished of my mini album of our weekend at O'reillys, but i cant scan the pages and im too lazy to photograph each page lol
Started tonight on a mini album for my niece's 1st Birthday. I will put this up when its finished.
Was going to go up to Brisbane tomorrow for the Papercrafts fair, but I hate the city, and Im not exactly sure where it is, so I dont think I will go. I would only spend more than I have to spend anyways...
Cheers