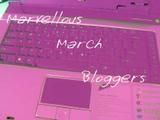 Day 17
Today I cleaned, and washed and washed some more and cleaned!
Took Dan to the library, he has been asking to go for awhile now. He borrowed 3 books and i borrowed 4. I got 2 John Grisham books I haven't read and 2 Robert Barrett books. Have 3 weeks to read them, so some quiet time on the couch comming up.
Had visitors after dinner tonight to watch the NAB cup grand final..YAY Carlton!!!
My niece was one of those visitors, she is growing so quick and has learnt to play it up for the camera. Will photo share tomorrow!
This is the mini album I did for the
52 week challenges at KSK
. It didnt scan too well, so sorry if its a tad blurry. I went really simple with it, wanted to focus on the photos mainly.
This is for one of the challenges last night at the
KSK cyber crop.
It was so much fun!! Thanks
Alison
and
Ange
for organising a great night!
Cheers