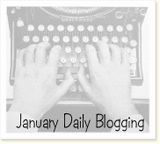 Day 22
Week 3 of
D
eck of Me challenge
.
This week We had to use 'I Am' and make a statement about ourselves. I have combined this with
Ali's
challenge and chosen 'making better use of my
time
' - my word for 2007.
Spent today out buying the rest of the school supplies, paying high school fees and gettin new uniforms...kids grow way too quickly..
Then sorting out into piles of what belonged to who - i refuse to cover them this year - and then stacking in their bags.
Didnt walk tonight, but I did play netball in 30C+ heat inside a tin shed!!! Think that makes up for it.
A little excited too, tomorrow I get to meet
Kathy
!! Going to drop her rak of and have coffee.
Going to check out this weeks challenges on
KSK
then lay under a fan and try to sleep
Cheers