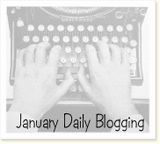 Day 23
OK so we had a ordinary coolish december and first half of January...i think summer has jsut realised that is should be here. It has been so hot the last few days, no air con, no pool and water restrictions...makes for an uncomfortable day...
Last night i mentioned that i was meeting
Kathy
today, well i did and shes lovely.
The rest of the day was spent trying to stay as cool as possible. The boys however rode bikes, rollerbladed and ran around. Where they get their stamina and energy from is beyond me.
We walked again tonight, day 23..almost there!
Cheers