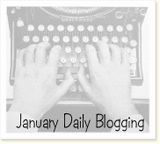 Day 4
The boys all got given movie vouchers for christmas so today I took them to see Flushed Away. Very funny was the majority comment, all of them enjoyed it.
While they movied I shopped, my favourite past time :)
I am supposed to be on a non buy, use my stash thingy, but when they put product out in a bargain box and you can pick things up for under $1 I cant not buy can I??
Was good though and only got a couple of things, I also brought a couple of new punches and a stamp, they have to be allowed because they can be used over and over.
Yay, day 4 of the year and we are still walking, was enjoyable today, not so hot and we all chatted about lots of things as we walked.
Big plans for scrapping tomorrow, so will have some layouts to show tomorrow.
Cheers