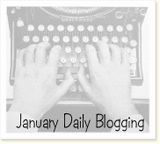 Day 5
So today I had planned to do all this scrapping, wanted to start a mini album and do some pages in another mini album I have going...
How much did I get done you ask? Yup you guessed it, None....
Slept late and things just didnt go the way I wanted them to, so it was 12.30 before I even looked like sitting down to scrap. Of course then I had a stream of visiting kidlets in and out wanting this or that and needing me to do things, so I decided that scrapping just wasnt going to happen.
Day 5 of the year and yes again we walked!! Im really pleased with myself for keeping this up even with John back at work and not here to make me go. Only 26 more days to go!
I have just watched superman with the boys and now am set ready to do some of that scrapping, already have a page sketched out, so maybe tomorrow i will have something to show for it lol
Thought I would end tonight with a mention of all the other girls taking part in the January Daily Blogging challenge. If you get the chance take a peek at their blogs, I have and enjoyed the read.
Under the icon over in the right hand column is a list of all the participants.
Cheers