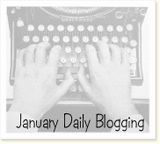 Day 6
Yay I finally scrapped!!
Ok so they are only 8x8 but its better than nothing. I have started 2 mini albums, one all about my scrapping and the other a mini version of an about me, just with random things that i feel like doing.
This first one I found a poem about scrapping that I thought was cute so decided to scrap it.
The photos here are from back when I first started scrapping, Timeless memories closed due to ill health of the owner.
Craft-alot
has now moved into bigger and better premises.
This is one for my mini AAM album, alot of the pages in this will be from various cj lists I have found or been given.
A few random things...
I was surprised today by the fact that a 16 yr old neighbour was willing to spend his afternoon taking young kids fishing. He did this because he wanted to not because he was asked to. Steven you are one awesome teenager!
Mr possum found that conduit on wire that moves round and round is not possible to pass over to get on to our roof so you can have a party!
Josh learnt that he wont go swimming with his very expensive earring in again, not when it falls out and lands somewhere in a huge amount of water and dad has to get his diving gear to find it... Maybe he wasnt old enough for such a gift...
Day 6 and im still walking!!!
We went after dinner tonight when it had cooled down a little, the whole family went, and yes honey it does hurt the first time lol
Cheers