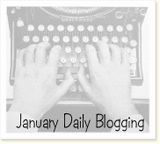 Day 2
John reluctanly went back to work today after an 8 day break. My day was prety unexciting, I tidied and then sorted all my photos into date orders and put in photo boxes ready to scrap. I did plan on gettin around to sorting all the christmas and Jay's birthday toys and puttin in the appropriate places...It didn't happen..
Went for our run/walk early today as it looked like rain, Dan and I jogged and Jay followed on his bike. Managed to jog all but 150m today, I dont think the jogging will hold out for long though it will have to become a power walk, my knee is starting to protest loudly after only 2 days. But hey a walk is just as good for me.
Love the quality time that I get to spend with the boys whilst we are out, talk about all sorts of things that might not happen if we were just at home.
Have decided that tonight I am going to scrap at least one page and I want to make myself somesort of keyring, not sure what or how yet lol but will see what happens.
Just to close I thought I would finish with this cute pic I found
here
...
Cheers