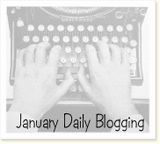 Day 1
Thanks
Kathryn
for the idea to blog daily, lets hope I keep it up.
We had a great night last night, small gathering with friends and their children, great food, conversation, a swim for those brave and saw a small fireworks display.
This morning our whole household slept late, and depsite a very late night and not enough sleep the boys weren't very grumpy!
We had a pretty lazy day to start with, pottering around fixing a few odds and ends. John getting ready to go back to work tomorrow, he is so not looking forward to it.
neighbor came for a chat early afternoon, found out that we had visitors last night that thought they might try to get inside our place! Luckily the neighbours were about and saw them and he and a friend came over and chased them of.. Totally scary thought, will be ringing the real estate tomorrow about some better security around the place.
I have decided that for the month of January (rain allowing) the boys and I are going to do a 5k run/jog/walk every day. Josh and Dan came with me tonight and we managed to jog all but 200m of it. Although I ached all over and was exhausted I felt good. So tomorrow (and every day) will head of with the older two boys jogging with me and Jay on his bike, and do the 5k. Hopefully by the end of January I will have regained my flat tummy and be back to the fitness level I was at 6 months ago.
Going now to finish sorting supplies and work out what I want to scrap next..
Cheers