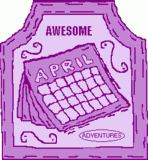 Day 15
Had a great day, got all my housework done early and while the boys played outside I scrapped and made a gift.
Went for a walk in the afternoon and got some great pictures of the boys - will upload tomorrow.
Got my curtains that I made yesterday hung! very basic but from a non sewer I'm happy with them :)
A couple of layouts that I did over the weekend just because, not for a challenge.
This one of Jayden and my cousin. He thought it so funny that at 23 she was only just taller than him.
This is my DH at just 10 years old (isnt he cute!) He had broken his arm, had it in and out of plaster for 8 months!
When Josh saw the layout he said 'he's cute' (he thought it was him lol)
DH goes back to work tomorrow, after nearly 2 weeks of he isnt looking forward to it. I have enjoyed having him at home.
Couple of plugs...
Check out Little book of sketches and Scrap the boys (links on the right) both are fantastic sites for inspiration!
Cheers