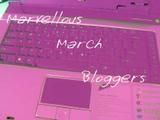 Day 20
Wow the month is almost over. This year is going way to quickly for my liking, before I know it will be 2008.
No creations to show tonight.
I spent the day in a kitchen....yep you heard right lol
Relax it wasnt mine and I wasnt cooking.
Josh had a round robin sports day today for school, his sport of choice was football. They held the games at our local club, so I Helped C and I out serving a small few polite and alot more impolite year 8 and 9 boys to food and drinks. I really dont know whats happened with some kids manners these days.
Was a good day though, Josh and his team did ok, canteen did great, got some good photos.
Cheers