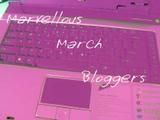 Day 19
This week the prompt for
Emilys deck of me cards
was your initial.
Mine of course is "L" I decided not to journal on this one, just use my picture and the letter.
Used beads around the edge and dimensional magic on the letter.
Fun layout of Josh for challenge at
KSK
. The journaling doesnt show, but its about how he almost got caught showing his baby niece how to cuddle Elmo!
Week 4 of
Patty's Flex your mind challenge
was to use only scraps on a layout. Used lots of them here with a picture of my boys with my sisters daughter and her step children.
Cheers