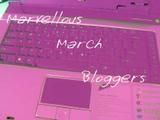 Day 23
Today wasnt quite the day I expected to have, but it turned out not so bad. I managed to finish of a couple of projects. Both of them are for challenges at
KSK
.
This first one of my baby playing with the bucket of cars nanna had given him.
This hanging was one that I had at home that i ressurected, it was badly in need of a makeover. Im pretty happy with how it turned out.
I have a full on 2 days of sport comming up, and with John of doing a sports trainers course, im doing the single mum thing...
Thank you sports clubs for having the games on different days!
Have a great weekend everyone :)
Cheers