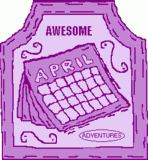 Day 30
What a week...
Scurrying around last Monday making phone calls to let schools and sports groups know that we would all be away for a week, before leaving for the airport, surviving the flight with 4 bored kids and arriving safely in Launceston to be met by family already there.
Tuesday was tough, lots of tears and sadness but smiles and laughter and happy memories as well. Seeing Josh help to carry the coffin out of the church really tugged at my heart.
The service was beautiful and went smoothly.
Wednesday saw us sorting papers and doing alot of reflecting about the past.
Thursday brought joy in that my cousin (who we had been staying with) gave birth to twin girls 8 weeks early! Both mum and twins are doing really well.
We drove to Hobart and spent a night with my mum and dad, the boys getting to attend a Hoabrt football club training session with dad.
Mum is doing alot better and whilst she wont get the use of her left arm ever, she is determined and strong and still has her cheeky streak.
Friday was spent with my sister Sally and her two beautiful munchkins, Chelsea and Lincoln. The boys love spending time with everyone as did I, was great to see them again, if only for a short time. Wasnt long before we had to be heading back to Launceston.
The drive back was the longest ever with a major accident on the highway cutting of access and all cars being diverted through a field. We arrived back in Launceston in time to drive John's sister and nephew to the airport, then back to his dad's for a coffee, chat and bed.
Saturday we did a few things around the place to make things easier for dad, I went and visited Shaina in hospital and got to see the twins! they are such beautiful little girls and so so tiny, but doing extremley well considering how early and small they are.
Sunday was D day, packing things up and spending as much time with dad as possible. Leaving him there was the hardest thing I think John has ever had to do, it brought tears to mine and dads eyes and left a huge lump in John's throat.
The flight back was uneventful (thank god for onboard dvd's) we arrived in brisbane at 10.45 and instead of getting a train like we had planned, got a taxi, we were too tired to worry about how much it cost.
Home finally where we dumped everything and went to bed.
Today at the crack of dawn poor John had to be up and back to work. The boys and I were lucky enough to get to sleep late. I dont think I have washed this much in one day ever lol, unpacking and trying to catch up with emails and blogs took up the whole day.
Football training for 3 now (Dan has decided he wants to play football not soccer) then dinner, showers and bed.
tomorrow the boys go back to school and I hope to catch up and sort out what challenges i need to complete.
Will share some pictures of our time away some time later in the week.
For now I want to leave you with this beautiful poem that was read out at the service.
Do not stand at my grave and weep.
I am no there I do not sleep,
I am a thousand winds that blow
I am the diamond glint on the snow.
I am the sunlight on reapered grain
I am the gentle autumn rain.
When you awaken in the mornings hush
I am the swift uplifting rush of quiet bird's encircled flight
I am the soft stars that shine at night.
Do not stand at my grave and cry
I am not there I did not die
So hear these words tht here I say
I am the love that guides your way.
Cheers