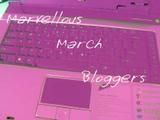 Day 28
Packed Josh of on a 2 day school camp this morning, a Wild at heart program for year 9 boys. It is already weird not having him around.
Spent some time today just playing around with drawings after reading this on
Donna Downeys
blog...
why am i so inspired? i am going to paint a painting everyday, just to paint, just to creatively play, just for me.
what do you think?
lets start a new movement!
a painted page a day!
are you in??
I have always said I cant draw or paint that its not my thing. I sat and thought about that today and decided that I wasnt happy with the statement 'I cant', so im going to have a go. It may not end up DaVinci or even anything that people recognise lol but it may just turn out to be something that I like doing.
I mentioned Monday night about having a some good news about my hubby to share... whilst all the details still havent been finalised. I am super excited to share that hubby will be on Thursday week one of the trainers for the St Kilda football club (Aust Football League)!! He will be at the Gabba, either in their rooms or on the ground with the players!! Having grown up an AFL fan and love the sport this is just so HUGE for him. I have told everyone and am like a proud mummy, he on the other hand is just so darn cool calm and collected about it lol
So that night not only will my baby boy be playing Auskick at half time of the game, but my hubby will be part of one of the main teams.
Cheers